1. William Butler Yeats, 1923.
2. Walter Rodney, 1970.
3. Louis Proyect, 2016.
Numero Uno—
"I have chosen asmy theme the Irish Dramatic Movement because when I remember the great honour that you have conferred upon me, I cannot forget many known and unknown persons.  Perhaps the English committees would never have sent you my name if I had written no plays, no dramatic criticism, if my Iyric poetry had not a quality of speech practised upon the stage, perhaps even–though this could be no portion of their deliberate thought–if it were not in some degree the symbol of a movement.  I wish to tell the 
Royal Academy of Sweden
 of the labours, triumphs, and troubles of my fellow workers.
The modern literature of Ireland, and indeed all that stir of thought which prepared for the Anglo-Irish War, began when Parnell fell from power in 1891. A disillusioned and embittered Ireland turned away from parliamentary politics; an event was conceived and the race began, as I think, to be troubled by that event's long gestation. Dr. Hyde founded the Gaelic League, which was for many years to substitute for political argument a Gaelic grammar, and for political meetings village gatherings, where songs were sung and stories told in the Gaelic language. Meanwhile I had begun a movement in English, in the language in which modern Ireland thinks and does its business; founded certain societies where clerks, working men, men of all classes, could study those Irish poets, novelists, and historians who had written in English, and as much of Gaelic literature as had been translated into English. But the great mass of our people, accustomed to interminable political speeches, read little, and so from the very start we felt that we must have a theatre of our own. The theatres of Dublin had nothing about them that we could call our own. They were empty buildings hired by the English travelling companies and we wanted Irish plays and Irish players. When we thought of these plays we thought of everything that was romantic and poetical, for the nationalism we had called up – like that every generation had called up in moments of discouragement – was romantic and poetical. It was not, however, until I met in 1896 Lady Gregory, a member of an old Galway family, who had spent her life between two Galway houses, the house where she was born and the house into which she was married, that such a theatre became possible. All about her lived a peasantry who told stories in a form of English which has much of its syntax from Gaelic, much of its vocabulary from Tudor English, but it was very slowly that we discovered in that speech of theirs our most powerful dramatic instrument, not indeed until she began to write. Though my plays were written without dialect and in English blank verse, I think she was attracted to our movement because their subject matter differed but little from the subject matter of the country stories. Her own house has been protected by her presence, but the house where she was born was burned down by incendiaries some few months ago; and there has been like disorder over the greater part of Ireland. A trumpery dispute about an acre of land can rouse our people to monstrous savagery, and if in their war with the English auxiliary police they were shown no mercy they showed none: murder answered murder. Yet ignorance and violence can remember the noblest beauty. I have in Galway a little old tower, and when I climb to the top of it I can see at no great distance a green field where stood once the thatched cottage of a famous country beauty, the mistress of a small local landed proprietor. I have spoken to old men and women who remembered her, though all are dead now, and they spoke of her as the old men upon the wall of Troy spoke of Helen; nor did man and woman differ in their praise. One old woman, of whose youth the neighbors cherished a scandalous tale, said of her, «I tremble all over when I think of her»; and there was another old woman on the neighbouring mountain who said, «The sun and the moon never shone on anybody so handsome, and her skin was so white that it looked blue, and she had two little blushes on her cheeks.» And there were men that told of the crowds that gathered to look at her upon a fair day, and of a man «who got his death swimming a river», that he might look at her. It was a song written by the Gaelic poet Raftery that brought her such great fame and the cottagers still sing it, though there are not so many to sing it as when I was young:
O star of light and O sun in harvest,
O amber hair, O my share of the world,
It is Mary Hynes, the calm and easy woman,
Has beauty in her body and in her mind.
It seemed as if the ancient world lay all about us with its freedom of imagination, its delight in good stories, in man's force and woman's beauty, and that all we had to do was to make the town think as the country felt; yet we soon discovered that the town could only think town thought.
In the country you are alone with your own violence, your own heaviness, and with the common tragedy of life, and if you have any artistic capacity you desire beautiful emotion; and, certain that the seasons will be the same always, care not how fantastic its expression.1 In the town, where everybody crowds upon you, it is your neighbour not yourself that you hate and, if you are not to embitter his life and your own life, perhaps even if you are not to murder him in some kind of revolutionary frenzy, somebody must teach reality and justice. You will hate that teacher for a while, calling his books and plays ugly, misdirected, morbid or something of that kind, but you must agree with him in the end. We were to find ourselves in a quarrel with public opinion that compelled us against our own will and the will of our players to become always more realistic, substituting dialect for verse, common speech for dialect.
I had told Lady Gregory that I saw no likelihood of getting money for a theatre and so must put away that hope, and she promised to find the money among her friends. Her neighbour, Mr. Edward Martyn, paid for our first performances; and our first players came from England; but presently we began our real work with a little company of Irish amateurs.2 Somebody had asked me at a lecture, «Where will you get your actors?» and I said, «I will go into some crowded room and put the name of everybody in it on a piece of paper and put all those pieces of paper into a hat and draw the first twelve.» I have often wondered at that prophecy, for though it was spoken probably to confound and confuse a questioner, it was very nearly fulfilled. Our two best men actors were not indeed chosen by chance, for one was a stage-struck solicitor's clerk and the other a working man who had toured Ireland in a theatrical company managed by a negro. I doubt if he had learned much in it, for its methods were rough and noisy, the negro whitening his face when he played a white man, and, so strong is stage convention, blackening it when he played a black man. If a player had to open a letter on the stage I have no doubt that he struck it with the flat of his hand, as I have seen players do in my youth, a gesture that lost its meaning generations ago when blotting paper was substituted for sand. We got our women, however, from a little political society which described its object as educating the children of the poor, which meant, according to its enemies, teaching them a catechism that began with this question, «What is the origin of evil?», and the answer, «England».
And they came to us for patriotic reasons and acted from precisely the same impulse that had made them teach, and yet two of them proved players of genius: Miss Allgood and Miss «Maire O Neill ». They were sisters, one all simplicity, her mind shaped by folk song and folk stories; the other sophisticated, lyrical, and subtle. I do not know what their thoughts were as that strange new power awoke within them, but I think they must have suffered from a bad conscience, a feeling that the old patriotic impulse had gone, that they had given themselves up to vanity or ambition. Yet I think it was that first misunderstanding of themselves that made their peculiar genius possible, for had they come to us with theatrical ambitions they would have imitated some well known English player and sighed for well-known English plays. Nor would they have found their genius if we had not remained for a long time obscure like the bird within its shell, playing in little halls, generally in some shabby, out-of-the-way street. We could experiment and wait, with nothing to fear but political misunderstanding. We had little money and at first needed little, twenty-five pounds given by Lady Gregory and twenty pounds by myself and a few pounds picked up here and there. And our theatrical organization was preposterous, players and authors all sat together and settled by vote what play should be performed and who should play it. It took a series of disturbances, weeks of argument, during which no performance could be given, before Lady Gregory and John Synge and I were put in control. And our relations with the public were even more disturbed. One play was violently attacked by the patriotic press because it described a married peasant woman who had a lover, and when we published the old Aran folk tale upon which it was founded, the press said the story had been copied from some decadent author of Pagan Rome. Presently Lady Gregory wrote her first comedy. My verse plays were not long enough to fill an evening and so she wrote a little play on a country love story in the dialect of her neighbourhood. A countryman returns from America with a hundred pounds and discovers his old sweetheart married to a bankrupt farmer. He plays cards with the farmer and, by cheating against himself, gives him the hundred pounds. The company refused to perform that play because they said to admit an emigrant's return with a hundred pounds would encourage emigration. We produced evidence of returned emigrants with much larger sums but were told that only made the matter worse. Then after this interminable argument had worn us all out, Lady Gregory agreed to reduce the sum to twenty and the actors gave way. That little play was sentimental and conventional, but her next discovered her genius. She, too, had desired to serve, and that genius must have seemed miraculous to herself. She was in middle life and had written nothing but a volume of political memoirs and had no interest in the theatre.
Nobody reading today her Seven Short Plays can understand why one of them, now an Irish classic, The Rising of the Moon, could not be performed for two years because of political hostility. A policeman discovers an escaped Fenian prisoner and lets him free, because the prisoner has aroused with some old songs the half forgotten patriotism of his youth. The players would not perform it because they said it was an unpatriotic act to admit that a policeman was capable of patriotism. One well known leader of the mob wrote to me, «How can the Dublin mob be expected to fight the police if it looks upon them as capable of patriotism?» When performed at last the play was received with enthusiasm, but only to get us into new trouble. The chief Unionist Dublin newspaper denounced it for slandering his Majesty's forces, and Dublin Castle, the centre of English Government in Ireland, denied to us privileges which we had shared with the other Dublin theatres, of buying for stage purposes the cast off clothes of the police. Castle and Press alike knew that the police had frequently let off political prisoners but «that only made the matter worse». Every political party had the same desire to substitute for life, which never does the same thing twice, a bundle of reliable principles and assertions.3 Nor did religious orthodoxy like us any better than political; my Countess Cathleen was denounced by Cardinal Logue as an heretical play, and when I wrote that we would like to perform «foreign masterpieces », a Nationalist newspaper declared that «a foreign masterpiece is a very dangerous thing ». The little halls where we performed could hold a couple of hundred people at the utmost and our audience was often not more than twenty or thirty, and we performed but two or three times a month and during our periods of quarrelling not even that. But there was no lack of leading articles, we were from the first a recognised public danger. Two events brought us victory, a friend gave us a theatre, and we found a strange man of genius, John Synge. After a particularly angry leading article I had come in front of the curtain and appealed to the hundred people of the audience for their support. When I came down from the stage an old friend, Miss Horniman, from whom I had been expecting a contribution of twenty pounds, said, «I will find you a theatre.» She found and altered for our purpose what is now the Abbey Theatre, Dublin, and gave us a small subsidy for a few years.
I had met John Synge in Paris in 1896. Somebody had said, «There is an Irishman living on the top floor of your hotel; I will introduce you.» I was very poor, but he was much poorer. He belonged to a very old Irish family and though a simple, courteous man, remembered it and was haughty and lonely. With just enough to keep him from starvation, and not always from half starvation, he had wandered about Europe travelling third class or upon foot, playing his fiddle to poor men on the road or in their cottages. He was the man that we needed because he was the only man I have ever known incapable of a political thought or of a humanitarian purpose. He could walk the roadside all day with some poor man without any desire to do him good, or for any reason except that he liked him. He was to do for Ireland, though more by his influence on other dramatists than by his direct influence, what Robert Burns did for Scotland. When Scotland thought herself gloomy and religious, Providence restored her imaginative spontaneity by raising up Robert Burns to commend drink and the devil. I did not, however, see what was to come when I advised John Synge to go to a wild island off the Galway coast and study its life because that life «had never been expressed in literature». He had learned Gaelic at College, and I told him that, as I would have told it to any young man who had learned Gaelic and wanted to write. When he found that wild island he became happy for the first time, escaping as he said «from the nullity of the rich and the squalor of the poor». He had bad health, he could not stand the island hardship long, but he would go to and fro between there and Dublin.
Burns himself could not have more shocked a gathering of Scotch clergy than did he our players. Some of the women got about him and begged him to write a play about the rebellion of '98, and pointed out very truthfully that a play on such a patriotic theme would be a great success. He returned at the end of a fortnight with a scenario upon which he had toiled in his laborious way. Two women take refuge in a cave, a Protestant woman and a Catholic, and carry on an interminable argument about the merits of their respective religions. The Catholic woman denounces Henry VIII and Queen Elizabeth, and the Protestant woman the Inquisition and the Pope. They argue in low voices because one is afraid of being ravished by the rebels and the other by the loyal soldiers. But at last either the Protestant or the Catholic says that she prefers any fate to remaining any longer in such wicked company and climbs out. The play was neither written nor performed, and neither then nor at any later time could I discover whether Synge understood the shock that he was giving. He certainly did not foresee in any way the trouble that his greatest play brought on us all.
When I had landed from a fishing yawl on the middle of the island of Aran, a few months before my first meeting with Synge, a little group of islanders, who had gathered to watch a stranger's arrival, brought me to «the oldest man upon the island.»  He spoke but two sentences, speaking them very slowly, «If any gentleman has done a crime we'll hide him.   There was a gentleman that killed his father and I had him in my house three months till he got away to America.  It was a play founded on that old man's story Synge brought back with him.  A young man arrives at a little public house and tells the publican's daughter that he has murdered his father.  He so tells it that he has all her sympathy, and every time he retells it, with new exaggerations and additions, he wins the sympathy of somebody or other, for it is the countryman's habit to be against the law.  The countryman thinks the more terrible the crime the greater must the provocation have been.  The young man himself under the excitement of his own story becomes gay, energetic, and lucky.  He prospers in love and comes in first at the local races and bankrupts the roulette table afterwards.  Then the father arrives with his head bandaged but very lively, and the people turn upon the impostor.  To win back their esteem he takes up a spade to kill his father in earnest, but horrified at the threat of what had sounded so well in the story, they bind him to hand over to the police.  The father releases him and father and son walk off together, the son, still buoyed up by his imagination, announcing that he will be master henceforth.  Picturesque, poetical, fantastical, a masterpiece of style and of music, the supreme work of our dialect theatre, it roused the populace to fury.  We played it under police protection, seventy police in the theatre the last night, and five hundred, some newspaper said, keeping order in the streets outside.  It is never played before any Irish audience for the first time without something or other being flung at the players.  In New York a currant cake and a watch were flung, the owner of the watch claiming it at the stage door afterwards.  The Dublin audience has, however, long since accepted the play.  It has noticed, I think, that everyone upon the stage is somehow lovable and companionable, and that Synge described, through an exaggerated symbolism, a reality which he loved precisely because he loved all reality.  So far from being, as they had thought, a politician working in the interests of England, he was so little a politician that the world merely amused him and touched his pity.  Yet when Synge died in 1910 opinion had hardly changed, we were playing to an almost empty theatre and were continually denounced in the Press.  Our victory was won by those who had learned from him courage and sincerity but belonged to a different school.  Synge's work, the work of Lady Gregory, my own Cathleen ni Houlihan, and my Hour glass in its prose form, are characteristic of our first ambition.  They bring the imagination and speech of the country, all that poetical tradition descended from the middle ages, to the people of the town.  Those who learned from Synge had often little knowledge of the country and always little interest in its dialect.  Their plays are frequently attacks upon obvious abuses, the bribery at the appointment of a dispensary Doctor, the attempts of some local politician to remain friends with all parties.  Indeed the young Ministers and party politicians of the Free State have had, I think, some of their education from our plays.  Then, too, there are many comedies which are not political satires, though they are concerned with the life of the politic ridden people of the town.  Of these Mr. Lennox Robinson's are the best known; his Whiteheaded Boy has been played in England and America.  Of late it has seemed as if this school were coming to an end, for the old plots are repeated with slight variations and the characterization grows mechanical.  It is too soon yet to say what will come to us from the melodrama and tragedy of the last four years, but if we can pay our players and keep our theatre open, something will come.  We are burdened with debt, for we have come through war and civil war and audiences grow thin when there is firing in the streets.  We have, however, survived so much that I believe in our luck, and think that I have a right to say I end my lecture in the middle or even perhaps at the beginning of the story.  But certainly I have said enough to make you understand why, when I received from the hands of your King the great honour your Academy has conferred upon me, I felt that a young man's ghost should have stood upon one side of me and at the other a living woman in her vigorous old age.  I have seen little in this last week that would not have been memorable and exciting to Synge and to Lady Gregory, for Sweden has achieved more than we have hoped for our own country.  I think most of all perhaps of that splendid spectacle of your court, a family beloved and able that has gathered about it not the rank only but the intellect of its country.  No like spectacle will in Ireland show its work of discipline and of taste, though it might satisfy a need of the race no institution created by English or American democracy can satisfy."       William Butler Yeats, "The Irish Dramatic Movement;" Nobel Literary Laureate's Lecture, 1923
Numero Dos—"Lenin very rarely mentioned Africa in his writings on colonialism, but inferences about Africa can be drawn from Imperialism, the Highest Stage of Capitalism and other works.  Most bourgeois writers on the partition of Africa make snide remarks on the Leninist explanation of imperialism.  Because they have already established a near monopoly of what is written on the subject, it is necessary to frame this analysis as a refutation of common misconceptions.  Furthermore – as is so often the case with the works of Marx, Engels, and Lenin – many hostile criticisms are based on sheer ignorance of the texts.  Thus the reader must bear with frequent quotations.
Lenin is generally said to have professed an 'economic' theory of imperialism.  This gives rise to the criticism that his theory was one-sided, because Europeans carved up Africa for several reasons-economic, political, social-humanitarian, psychological, etc.  Of course Marxism does not concern itself solely with some so-called 'economic' aspect of society.  It is a world-view which perceives the presence of multiple variants within the complexity of human society, and seeks to unravel their relationship with reference to the material conditions of existence.  Lenin did not have to spell out this elementary Marxist position in everything he wrote.  His essay on imperialism dealt with the question of the expansion of the capitalist economy.  The non-economic dimensions were known to exist, and were regarded as secondary.  Lenin made two passing references on this point:
(l) The capitalists divide the world, not out of any particular malice, but because the degree of concentration which has been reached forces them to adopt this method in order to get profits.  And they divide it in proportion to 'capital,' in proportion to 'strength,' because there cannot be any other system of division under commodity production and capitalism.  But strength varies with the degree of economic and political development In order to understand what takes place, it is necessary to know what questions are settled by this change of forces.  The question as to whether these changes are 'purely' economic or non-economic (e.g., military) is a secondary one, which does not in the least affect the fundamental view of the latest epoch of capitalism.
(2) The non-economic superstructure which grows up on the basis of finance capital, its politics and its ideology, stimulates the striving for colonial conquest.
We do need to be informed as to how changes in the politico-military balance of power and European national aspirations for domination stimulated the striving for colonies in Africa. Such factors were not outside Lenin's field of awareness, and exploiting them at length does not in the slightest invalidate his thesis. For example, such facts as that the French are hung up on "prestige," or that changes take place in the so-called balance of power have to be related to the political economy of Europe. They did not arise out of thin air. They were products of the development of monopoly capitalism within the boundaries of several European nation states. The elaboration of this argument would carry us deeper into the European past, which is outside the scope of this brief analysis. The more pertinent question is: How far and in what ways did monopoly capital impinge on Africa during the period of the notorious scramble?
A great deal of trouble has been taken to show that little capital was invested in Africa prior to the first worldwide capitalist war. Western Europe invested far more in Eastern Europe, the United States, Latin America, and Asia than it did in Africa. This is a contradiction of Lenin only for those who have not read Lenin. Lenin's examples of investment by monopolies outside of the capitalist epicenters are situated in Eastern Europe, the Middle East, and Latin America. He cited Russia, Rumania, Turkey, and Argentina most forcefully as countries on the receiving end of investment and exploitation.
Only Britain, with a large number of old and new colonies, was exporting a significant proportion of its capital to its political colonies in the early part of this century. France was investing mainly in Russia, and Germany divided its interests between Eastern Europe and the Americas.
Lenin quoted the geographer Supan to the effect that the characteristic feature of the late nineteenth century was the division of Africa and Polynesia. He then added that "Mr. Supan's conclusion must be carried further, and we must say that the characteristic feature of this period is the final partition of the globe, not in the sense that a new partition is impossible; on the contrary, new partitions are possible and inevitable, but in the sense that the colonial policy of the capitalist countries has completed the seizure of the unoccupied territories on our planet." Lenin's emphasis on "completed" is significant, because it places the scramble for Africa within the context of a single process emanating from Europe and spreading across the whole world. Its intensity was not the same at all points. Huge amounts of capital were not initially invested in Africa, but Africa could not escape the inexorable process of expansion, domination, and partition which had its roots in monopoly capital.
Lenin took pains to show that the division of the world among capitalist monopolies and the nation-states in which they were encrusted was not a policy option which could just as well have been replaced by more enlightened thinking. He emphasized the internal logic which made international partitioning inseparable from the nature of monopoly capital in that epoch. Africa was the great unknown continent. Europeans dreamed of its great potential. Certain remarks of Lenin are particularly apt in this regard:
Finance capital is not only interested in the already known sources of raw materials, … because present-day technical development is extremely rapid. . . . Hence the inevitable striving of finance capital to extend its economic territory and even its territory in general. In the same way that the trusts capitalize their property by estimating it at two or three times its value, taking into account its "potential" (and not present) returns, and the further results of monopoly, so finance capital strives to seize the largest possible amount of land of all kinds and in any place it can, and by any means, counting on the possibilities of finding raw materials there and fearing to be left behind in the insensate struggle for the last available scraps of undivided territory.
It took a considerable time before imperialist powers made efforts to invest large amounts of capital in Africa as a whole. In the case of France, significant capital investment in Africa is a post-Second World War phenomenon. Lenin had noted that the possibility of exporting capital to backward countries was created by those countries having been drawn previously into international capitalist intercourse, thereby creating elementary conditions (such as the start of railway and port construction) for further and more intensified involvement. The necessary infrastructure was emerging in Eastern Europe, the Americas, and parts of Asia; but this occurred scarcely anywhere in Africa during the nineteenth and early twentieth centuries. Lenin, like Marx before him, recognized the tremendous contribution made by Africa to the accumulation of capital during the epoch of the slave trade. The fact that he did not deal with Africa at any length in the context of imperialism was not an oversight, for in that epoch Africa was marginal to the development of capitalism.
An understanding of this has frequently been obscured by a tendency to caricature Lenin's theory of imperialism to mean the division of the world into political colonies. Since Africa was the classic example of political partition, it would then follow that Africa was the continent in which monopoly was principally interested. Lenin spoke first and foremost about the "struggle for economic territory." Imperialist nations sometimes found it possible and necessary to transform their economic territories into political colonies, so as to reinforce exploitation and protect their capitalists front foreign competition. As Lenin put it: "Colonial possession alone gives complete guarantee of success to the monopolies against all the risks of struggle with competitors, including the risk that the latter will defend themselves by means of a law establishing a state monopoly." Nevertheless, monopoly capital often settled for spheres of economic interest which retained varying degrees of political independence.
Monopoly capital had a small representation on the African continent relative to its presence in Asia and America, but it appeared in sufficient force to precipitate the ruthless scramble for Africa. it must be borne in mind that such capital as was invested in Africa was concentrated in two key areas: South Africa and Egypt, with the Congo, the Maghreb, and Nigeria as other decisive points. Looking at East Africa, one bourgeois historian (Koebner) remarked that "the Imperial British East African Company was certainly not a galaxy of big capitalist interests." This was meant as a neat aside which would put down the Leninist interpretation, and it is actually factually accurate though woefully out of focus. Lenin's position did not imply that every part of Africa was bulging with surplus capital brought in by big European monopolies. It is not necessary, for example, to seek a specific reason why Europeans wanted the region that is now the Central African Republic. It is enough to know that monopoly capital was interested in a few parts of the continent where potential was to some extent verified. In squabbling for those areas, Europeans also saw fit to apportion among themselves the great unknown expanses -especially since nobody wanted to miss a share, not even Spain or Italy.
The main elements of the epoch of Cecil Rhodes in Southern Africa are too well known to require attention here. All the ingredients about which Lenin spoke were clearly present. There were Rhodes and De Beers representing monopoly capital; there were gold and diamonds and the possibility of extensive railroad development; there was Anglo-German competition; and there was the spectacle of both the Boers and the Africans being subjected to and incorporated into the far-flung empire of capital. The Egyptian scene is equally well-known, the Suez canal being symbolic of the great ambitions of European finance capital. Disraeli was nothing but a front man for the Rothschilds, who later utilized their political influence to bring about the conquest of Egypt. Besides, British capitalists interested in India had good reason for wanting to oust the French and colonize Egypt and the Sudan.
In Egypt, Britain and France invested capital directly in the Canal and indirectly in other sectors through loans. The French were very keen on loan capital, as Lenin observed, when he said that "French imperialism might be termed usury imperialism." This was well exemplified in the Maghreb. French occupation of Tunisia was achieved through a policy of financial loans at extravagant rates to an equally extravagant Bey of Tunis, who still existed in the feudal atmosphere of the Crusades, and who proved easy prey for the manipulations of European financiers. Britain and Italy were also in on the deal, but France shut them out by an armed attack on Tunis in 1881-expressively termed a Coup de Bourse. The Sultan of Morocco was caught in the same bag when in 1904 he negotiated a loan of 62.5 million francs from French banks, pledging 60 percent of the nation's customs revenue as security.
Algeria was an exception, though not a very important one from an analytic viewpoint. Its coastlands had fallen prey to French greed since 1830, and so the beginning of its colonization was not part of the general imperialist expansion. However, from the 1880s interest in Algeria was stimulated by France's new offensive in Africa, and the Maghreb in particular. When Lenin referred to Portugal as a British colony, he indicated that this was true long before the heyday of imperialism, but that it had assumed new significance in the epoch of partition. His remarks in that context are quite appropriate to the Algerian-French relationship. "Relations of this kind," said Lenin, "have always existed between big and little states. But during the period of capitalist imperialism they become a general system, they form part of the process of 'dividing the world'; they become a link in the chain of operations of world finance capital." In Algeria, Tunisia, and Morocco, military force was applied in the interests of finance as well as to keep the Mediterranean plains free for European settlers. This question of finding room for Europe's "surplus population" was one to which Lenin gave prominence, taking his cue from the pronouncements of imperialists like Cecil Rhodes. In practice, it was not an important theme in the imperialist take-over of the African continent, the Maghreb being one of the few areas where it was applicable.
South of the Sahara and north of the Transvaal lies the vast mass of black Africa, which was so blithely cut up by the robber statesmen who sat together in Berlin in 1884. Setting apart Egypt and South Africa as "exceptional" capital-receiving countries in nineteenth-century Africa cleared the way for mystifying the partition of the rest of the continent by talking about explorers and missionaries bringing civilization to the natives. Yet, in some ways it can be said that nowhere is the universality of the Leninist formulation better vindicated than in these lands where capitalism had previously unleashed slave trading from the East and West Coasts. "Under the old capitalism, when free competition prevailed, the export of goodswas the most typical feature," said Lenin. "Under modern capitalism, when monopolies prevail, the export of capital has become the typical feature." A glance at the evidence would show that this changeover was sharply effected in tropical Africa. During the epoch of the slave trade, Europeans carried goods to Africa and exchanged them for human beings, who were thus transformed into saleable commodities. When Europe became interested in the raw materials of the continent, capital was sent to transform Africans into workers and peasants producing for the capitalist market.
The Congo has the unfortunate distinction of being one of the first as well as one of the last African countries in which slaving took place. By the nineteenth century someone living in the Congo basin could be seized and sent westward to the Atlantic or eastward to the Indian Ocean. Imperialist Europe had to stamp out the slave trade where it still survived; the new necessity was for African labour to be harnessed by European capital so as to export raw materials like rubber and cotton. Enter Livingstone, Stanley, and King Leopold. backed by the Belgian franc and white missionaries who preached the redeeming value of work which produced what capitalism required.
It is a mere illusion to present the Congo as the property of one man (King Leopold) and to discuss its colonisation in terms of personal fancy. it was because several nations were bent on exploiting the Congo that it was left under the nominal administration of the ruler of a small state. Britain was itself interested only in a guarantee of trade and not in sovereignty over the country. Britain first tried for a treaty with Portugal which would have given the Congo to the Portuguese, while allowing British merchants to enjoy extensive privileges. Later Britain fell in line with France and Germany in support of Leopold's creation of a "Congo Free State"-free in the sense that there should be no restrictions on trade and investment by capitalists of all countries. There was a great humanitarian outcry against the atrocities committed by Europeans in the Congo under Lcopold's regime, but the international commission which studied the situation was more interested in the fact that Leopold had violated the agreements on free trade. In 1906, as Leopold's personal rule drew to an end, he felt obliged to offer four huge concessions to British, French, and American capitalists. That was the point at which Union Minière and Forminière came into being, and the Congo took the first step toward becoming the cockpit of international monopoly capital.
The Congo was atypical. Elsewhere in Africa, the principal European capitalist nations seized economic territory and ran up their own flags to prove the point. Sometimes, the flagpoles seem to have been stuck in the ground without rhyme or reason. Why little Gambia inside Senegal's belly? Why German Togo and French Dahomey closeted between the British colonies of Gold Coast and Nigeria? The only explanation (and one highlighted by Lenin) is the European search for raw materials-particularly for edible oils and fats which were obtainable in West Africa from the oil palm and the peanut. It was in order to maintain investments which encouraged the growing of peanuts that British capitalists clung to Gambia; while Togo and Dahomey were "protectorates" established by Germany and France to protect their interests in palm oil.
The German involvement in the palm-oil trade and its acquisition of Togo constitute a small episode which illumines one of Lenin's principal arguments concerning the way that Germany was fast outstripping Britain and France in the phase of monopoly capital. Germany had a major interest in the West African oil palm because its expanding industries and railways had need for more lubricants, its proletariat offered a large market for cheap cooking oils, its advanced mixed-farming sector utilized palm-kernel cake as stock feed, its steamships had established direct lines with West (and East) Africa, and Hamburg was the only place in Europe with the machinery for crushing palm kernels. The consequence of all this was that Germany received a much larger share of the "economic territory" of West Africa than is apparent, by encroaching into territory politically controlled by Britain and France. By 1885, German firms (backed by the Disconto Bank) had secured over half of the palm kernel exports of the British protectorate of Lagos, and one third of the palm oil. More than three quarters of the palm kernels exported from British West Africa went to Germany up to 1914. Besides, the acquisition of the small colony of Togo (and the other German colonies) was a notable achievement in that German economic power had to overcome the long historical headstart established by Britain and France, whose presence in West Africa dated from the period of the slave trade.
Not all companies engaged in palm-oil trade were monopoly concerns. On the contrary, the commerce got underway in the early nineteenth century with a large number of small entrepreneurs who were known as "palm-oil ruffians" and whose activities constituted a phase of violent free enterprise. But by the time of the partition, the Niger riser had a single giant firm, the Royal Niger Chartered Company, which was the first colonial government of Northern Nigeria. just as Rhodes's more notorious British South African Company was entrusted with the destiny of South Africa's peoples. The way the RNCC subsumed and consumed competitors by mergers, cut prices, and other means fits neatly into the classic pattern analyzed by Lenin. Its charter (granted in 1886) ended in 1897, but it continued as the Niger Company until 1911 when it was taken under the wing of Lever Brothers. A large part of Nigerian production was therefore destined to fall under the control of the African capitalist octopus, the United Africa Company, which in turn was a subsidiary of (Anglo-Dutch) Unilever.
Lenin had spoken of monopoly in the sense of the dominance of one or two firms within a particular branch of industry in a given capitalist economy. In the economic partition and repartition of Africa, new dimensions of monopoly appeared. Firstly, some European firms established dominance over colonial trade-a much more diffuse category than, say, the steel, oil, or chemical industries which were the objects of Lenin's attention. Thus the UAC appeared in all British colonies and in the Congo, Dahomey, Upper Volta, Chad, and the Carnations, handling whatever raw materials happened to be staple in those territories. Secondly, the UAC in most cases extended- its tentacles over all facets of a given colonial economy-from shipping to the distribution of razor blades in its own retail shops. Similarly, French colonial monopolies such as CFAO, SCOA, and Madagascar Import-Export were actively engaged in concessionaire agricultural activity as well as handling mast of the imports and exports. No monopoly, however great, could have such complete control over a metropolitan capitalist economy.
It must be reiterated that Lenin had little to say that was explicitly concerned with Africa. From that it follows that while his insights provide an immediate point of departure for an analysis of the imperialist partition of Africa, one should not expect to find all the answers in his writings. For that matter, Lenin did not pose a very significant question: Why did imperialism appear in Africa in the form of political partition? This omission is one reason why bourgeois writers have got away with blurring the distinction between imperialism and the political partition of Africa. The two things are not interchangeable. Imperialism derived from the expansion of the capitalist economy, while partition was determined by (a) the nature of African social formations, (b) the element of racism within the capitalist supentnicture, and (c) the opposition of Africans to European incursion.
In some cases, imperialism was prepared to allow countries their political independence (as in Latin America and the Balkans), while in others European intervention in tax collection and the setting up of spheres of commercial interest (as in China), gravely impaired political independence but did not abolish it altogether. fn Latin America and Eastern Europe, there were social classes which were playing a role within capitalist production long before the imperialist epoch. These countries were easily incorporated by imperialism, provided that nothing was done to openly deprive them of the attributes ofnational ;sovereignty, for they had a bourgeoisie which had participated in national revolutions. In nineteenth-century China, there existed a bureaucratic feudal class and the beginnings of a national bourgeoisie, both of which could he used as instruments of foreign capital. The bureaucratic feudalists in particular were rapidly transformed into compradors serving imperialism. Most of Africa in this period was pre-feudal in its social relations, and Europeans therefore found it necessary to introduce their own personnel and to set up their own governments.
However, there were a few Africans with the necessary social experience who could have functioned independently within the colonial framework.  In Senegal, Sierra Leone, Ghana, and Nigeria, an African educated elite was in the process of formation ever since the end of the eighteenth century, and was quite prominent by the time colonial government was instituted.  The coming of colonialism involved the deliberate destruction of this black elite because of the racism spawned in the earlier phase of capitalist expansion when genocide in Latin America and the enslavement of Africans had to be given pseudo-scientific and obscurantist philosophical justification.
South Africa was another laboratory in which the white racist virus was cultivated; and while capitalism subordinated the quasi-feudal economy of the Boers, it was found useful to further entrench racism as a prop to the brutal exploitation of the labour of the black peoples of Southern Africa.  As a part of the capitalist superstructure, racism was so powerful that Europeans could scarcely bear the thought of politically independent Ethiopia and Liberia on the African continent, despite the fact that both of those states had become enmeshed in the international capitalist system.
Africa had no revolutionary nationalist traditions which would have clashed with colonialist ambitions.  Nevertheless, there was widespread resistance to the imposition of colonial rule, because people spontaneously defended their way of life against aliens.  In one instance–that of Ethiopia–European force was inadequate, and the Ethiopians trounced the Italians at Dogali in 1887 and more decisively at Adowa in 1896, thus guaranteeing their political independence.  On the other hand, Britain suffered some setbacks in Egypt and the Sudan, and used those as stepping stones to political power.  It is quite true that British statesmen did not envisage political rule over Egypt when British capital was first invested in the Suez Canal.  The embryonic Egyptian nationalist movement under Colonel Urabi and the Sudanese victory over Generals Hicks and Gordon were undoubtedly events which forced Britain to exercise political domination over Egypt and the Sudan.  From the events in Egypt some bourgeois writers have drawn the mindless conclusion that it was the Egyptian nationalist revolt rather than finance capital which explains the presence of British imperialism in that part of Africa.  Clearly, the nationalist manifestation was a response to British imperialism, which (with its French counterpart) had already taken possession of Egypt as an economic territory.  For Lenin, the division of economic territory was the central factor, and the correctness of that position is powerfully evident today in Africa when imperialism has almost completely changed its form of political partition, the better to pursue the substance of economic exploitation."        Walter Rodney, "The Imperialist Partition of Africa;" Monthly Review, 1970
Numero Tres—
"When I was seven years old or so, I became terrified of nuclear war.  We participated in 'duck and cover' drills in school, which involved turning your desk on its side and cowering behind it.  We saw films in the auditorium about how to survive a nuclear war and worried about the possibility of a cobalt bomb being developed, a device that we had heard could blow the world in half.  When driving around with my mom, if I ever saw a cumulus nimbus cloud, I'd always ask if that was an H-Bomb.
Cumulus Nimbus
When I got to Bard College in 1961, students had become active around the need to oppose NY State Governor Nelson Rockefeller's proposed legislation that would have made it mandatory for every house to have a fallout shelter.  My friends started something called the Welcome the Bomb Committee, a satirical effort to put across the idea that if you are hospitable to nuclear weapons, they wouldn't harm you.
With the end of the cold war, worries about nuclear war subsided except to bubble up from time to time in the Chicken Little journalism from that part of the left that is aligned with the Kremlin. Ty pical was F. William Engdahl, a former member of Lyndon Larouche's fascist cult, who warned about NATO resorting to nuclear war over the Georgia-Russia war in 2008.  You can take his article and substitute the word Ukraine for Georgia and it would be identical to those appearing now on Global Research and The Nation.
What I learned from Command and Control, the explosive (in more sense than one) documentary opening tomorrow at the Film Forum in NY was that the biggest danger in some ways was always us blowing ourselves up rather than some commie sneak attack.  As Walt Kelly's Pogo put it, we have met the enemy and he is us.
The film is directed by Robert Kenner and based on a 2014 book by Eric Schlosser titled "Command and Control: Nuclear Weapons, the Damascus Accident, and the Illusion of Safety". No, this is not Damascus, Syria (although people like Engdahl would likely jump to that conclusion) but Damascus, Arkansas, the site of a Titan II Missile Complex that had a disastrous fire caused by a minor accident on September 18, 1980.
A single Titan II missile in the Damascus underground silo had a 9 megaton H-Bomb warhead that packed an explosive power three times as great as every bomb dropped during WWII, including those over Hiroshima and Nagasaki. Its firestorm could cover 1000 square miles and a radiation plume much greater in distance.
For comparison's sake, a B-52 broke apart accidentally over Goldsboro, North Carolina on January 24, 1961, dropping two 4-megaton H-Bombs in the process. When searchers recovered one of the bombs, they were shocked to discover that three of the four safety devices had failed. This was according to a declassified document obtained by Schlosser and revealed in his book. So even if that was half the payload of the Damascus bomb, the death toll would have been over 100,000 while millions would have suffered debilitating chronic diseases from radiation exposure.
Director Robert Kenner was able to get the approval of a Titan II museum in Green Valley, Arizona to use their facilities to recreate the seemingly trivial accident that could have killed hundreds of thousands of people in a couple of days. Using archival footage of the Damascus explosion mixed with recreations at the museum, you really feel as if you are there on the day of the fateful incident.
It seems that a man doing routine maintenance dropped a socket wrench to the bottom of the silo where it bounced off the platform punctured a hole in a fuel tank, which began spouting fuel vapors. Since it was extremely volatile, anything could detonate it. And that is exactly what happened, costing the lives of men who heroically went down to cap the fuel. The explosion scattered bits of the missile in all directions, including the warhead that landed about a hundred feet from the silo in a nearby field. As is made abundantly clear in the film, scientists and engineers had never fully thought through the electronic safety devices inside the missile, especially the consequence of the circuit being melted down and rendered ineffective as nearly happened in Goldsboro.
Schlosser, who is a first rate journalist and author of "Fast Food Nation" that sits on my bookshelf at home, describes how the Pentagon reacted to the near catastrophe at the time:
It was covered by the nightly news, made headlines in our major newspapers. But the Pentagon was adamant that there was absolutely no way the warhead on the Titan II missile could have detonated. The press didn't challenge that assertion. The story was soon forgotten. And we now know that the Pentagon's reassuring words were a lie.
Sometimes it is easy to forget how totally insane the men and women are who rule the USA on behalf of the corporate elite that backed a foreign policy during the Cold War based on "better dead than Red". They had 35,000 nuclear weapons in silos, on airplanes and in submarines that could have killed everybody on earth many times over—all necessary to preserve the private ownership of the means of production. With their control of the TV networks and the print media, it is easy to understand why the press didn't challenge the Pentagon's word.
In 1954 President Eisenhower, the sort of serenely wise and moderate Republican who Hillary Clinton seems to be modeling herself after, seriously considered dropping three atom bombs on the Viet Minh's positions surrounding the French at Dien Bien Phu.
After Eisenhower returned to private life, we ended up with Jack Kennedy who every Democrat idolizes, including John Kerry who said, "We thank that whole generation for making America strong, for winning WWII, winning the Cold War, and for the great gift of service which brought America 50 years of peace and prosperity. My parents inspired me to serve, and when I was a high school junior, Kennedy called my generation to service."
Right. This was the same JFK whose nuclear brinksmanship might have led to a global catastrophe in October 1962. After the blockade began, the USA began dropping depth charges with minimal explosive power on Russian submarines near Cuba with the intention of only forcing them to the surface. One of the submarines identified as B-59 came close to firing a nuclear torpedo but the submarine commander Vasili Arkhipov decided that it was better to go to the surface rather than risking nuclear annihilation. On October 13, 2002, the Boston Globe reported:
One of the Soviet captains gave the order to prepare to fire. But a cooler-headed officer persuaded him to wait for instructions from Moscow before unleashing a nuclear attack.
"We thought – that's it – the end," Vadim Orlov, a Soviet intelligence officer, was quoted as saying in recently declassified documents from the Cuban missile crisis.
I am not sure whether "cooler-headed" is all there is to this. As a country that saw millions of its citizens die in WWII, Russians had a deeper commitment to peace than the Americans who had not had a war on native soil in a century.
A week ago, the NY Times reported that Obama is unlikely to promise that the USA would never be the first to use nuclear weapons. The excuse given is that such a measure would "rattle" allies such as Japan and South Korea. As expected, JFK fanboy John Kerry sided with Obama and the other madmen determined to preserve American military superiority even if its economy is headed toward 3rd world standards. He also told Obama that a no-first-use pledge would weaken nuclear deterrence while Russia is running practice bombing runs over Europe and China is expanding its reach in the South China Sea. Isn't there some other way to manage global conflict besides brandishing H-Bombs? Apparently not. In any case, China is on record committed to a no-first strike policy while Russia has stated that it would only use nuclear weapons if attacked first. I understand that these BRICS stalwarts are run by thugs but compared to the White House, they are Helen Caldicott on the question of nuclear war.
The Times article indicated that The Federation of American Scientists released an analysis showing that Obama had dismantled fewer nuclear warheads than any other post-Cold War president. Get that, you people who are okay with Hillary Clinton promising to continue the legacy of the Obama administration? I am much more afraid of her than Donald Trump if for no other reason that she is certain to be the next president while he is destined to continue building luxury condos and stiffing small businesses.
Meanwhile, Obama is all set to push forward with a one trillion dollar nuclear weapons "modernization" program that Clinton will surely continue. This includes an update to the B-61 "bunker buster" weapon that the Pentagon brass is drooling over. This is a wee, "aw cute" little A-Bomb that can be calibrated to deliver between 0.3 to 340 kilotons, just like the volume control on your remote. For comparison's sake, the maximum output is 20 times that of the A-Bomb dropped on Hiroshima.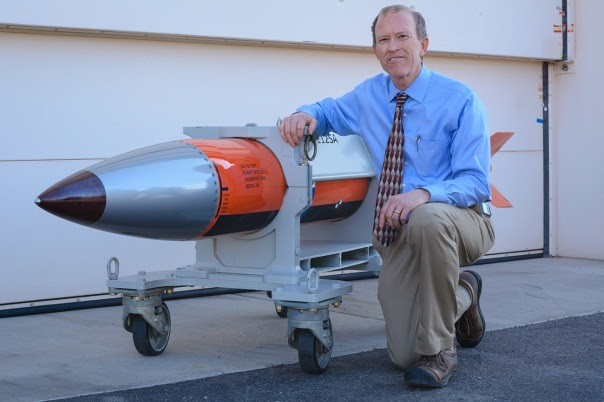 Phil Hoover, an engineer at Sandia National Laboratories, with a B61-12 nuclear weapon
The Guardian blew the whistle on this weapon on April 21, 2013:
Barack Obama has been accused of reneging on his disarmament pledges after it emerged the administration was planning to spend billions on upgrading nuclear bombs stored in Europe to make the weapons more reliable and accurate.
Under the plan, nearly 200 B61 gravity bombs stockpiled in Belgium, the Netherlands, Germany, Italy and Turkey would be given new tail fins that would turn them into guided weapons that could be delivered by stealth F35 fighter-bombers.
'This will be a significant upgrade of the US nuclear capability in Europe,' said Hans Kristensen, a nuclear weapons expert at the Federation of Nuclear Scientists.  'It flies directly in the face of the pledges Obama made in 2010 that he would not deploy new weapons.'
All of this only steels me in my determination to support the Green Party in the 2016 elections, group that is on record advocating a humane and peaceful world:
Our government should establish a policy to abolish nuclear weapons.   It should set the conditions and schedule for fulfilling that goal by taking the following steps:
Declare a no-first-strike policy.
Declare a no-pre-emptive strike policy.
Declare that the U.S. will never threaten or use a nuclear weapon, regardless of size, on a non-nuclear nation.
Sign the Comprehensive Test Ban Treaty (CTBT).  Our pledge to end testing will open the way for non-nuclear states to sign the Non-Proliferation Treaty (NPT), which has been held up by our refusal to sign the CTBT. Honor the conditions set in the NPT for nuclear nations.
Reverse our withdrawal from the Anti-Ballistic Missile Treaty and honor its stipulations.
End the research, testing and stockpiling of all nuclear weapons of any size.
Dismantle all nuclear warheads from their missiles."         Louis Proyect, "Command and Control;" a Review-Essay, 2016